APPRENTICESHIP SUCCESS STORY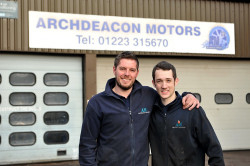 Here at Archdeacon Motors we have always been keen to help the next generation of budding mechanics get onto the first rung of the ladder. Our latest apprentice, Ben Cooke, has been a great addition to our team and has been gaining huge experience in our busy workshop, learning from our skilled team of professional mechanics.
Ben says: "I've learnt so much from being here. The opportunity came from an industry placement through college, which turned into an apprenticeship.
"I've always loved cars so knew I'd work in this industry. I've learnt a lot from the other mechanics. It has been a great opportunity."
Apprenticeships are a great way to fast track yourself into a job and earn while you learn. Archdeacon Motors has a team of staff ranging from 18 to 65 years old and they are great people with a wealth of knowledge, ready to share with those that are keen to learn.
Take a look at this article for more details of Ben's story and to look at the other apprenticeships available at Cambridge Regional College.
Click to enlarge....