Car and Van MOTs in Cambridge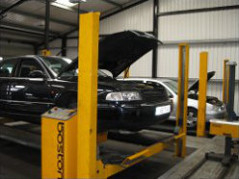 As one of the largest MOT specialists in Cambridge we can always fit you in at short notice for an MOT. We run 4 bays operating 6 days a week.
We MOT cars from Monday to Friday, where the first MOT is at 08:00 and the last is at 16.45. and on Saturdays from 08:00 until 12:15.
Each MOT takes approx. 45 minutes and you are welcome to stay in our waiting room, shop at nearby Tesco or stroll to the huge choice of shops at the local retail park just a 5 minute walk away.
Online MOT Results
The MOT system is now fully computerised and your MOT test results are available to check online as soon as the test is complete.
If your vehicle should fail the MOT test you can look at the failures and advisories by visiting www.check-mot.service.gov.uk. All you need is your registration and vehicle make and it will list the entire MOT history starting with the most recent test.
We will provide a quote for any repairs required and if you would like us to rectify anything that was advised we can quote for these too.
24 Hour Online MOT Booking
Currently we can offer a special discounted MOT rate of just £35 to customers who do not require delivery or collection and use our online booking form. The fee for all other bookings is set at just £40 but we are also happy to offer MOTs with a collection and delivery service from your home or work place for a total of £54.85.
If you lose your certificate and require a replacement these can be supplied for £10.
We know how easy to is to forget to MOT your vehicle so an MOT reminder letter will be sent to all our customers. If you leave us your e-mail address for contact we will use that instead. As an incentive to help prevent people from driving with an expired certificate MOT tests can be carried out on your car up to a month prior to the expiry date of your existing MOT provided that the current MOT certificate is presented to the examiner at the time of the test. Your new certificate will have any unused time added on to it so that it is valid for up to 13 months.
Should your car fail the MOT test with only minor repairs needed, such as light bulbs, wipers or tyres, we can usually rectify these immediately and then you can drive away with a pass certificate. If more complex work is required a full explanation and quote will be given and you can then either book in for a day more suited to you or the work can be completed and the car re-tested so your vehicle is ready for collection as soon as it has passed.
All MOT RE-TESTS ARE FREE OF CHARGE when carried out within 10 days of the original test or if the vehicle does not leave our premises.