Cambridge Tyre Services at Archdeacon Motors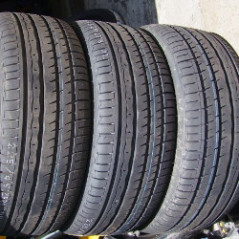 Full fitting service
Punctures repaired
Budget brands available
Common sizes in stock, others available same day
Wheel balancing
Computerised wheel alignment
Valve replacement
Bead sealing
We have a dedicated tyre fitting bay and have many common tyre sizes in stock so that we can fit your new tyres as quickly as possible. Where a repair is possible, puncture repairs can be done while-you-wait at most times. We also have access to same-day delivery of numerous tyre makes and sizes at very competitive prices so let us quote for your tyre needs today.
We can supply and fit any tyre from budget through to mid-range and then premium options. Tyre manufacturers we can supply tyres from include
Bridgestone
Continental
Toyo
Firestone
Landsail
Michelin
Nexon
Dunlop
Goodyear
Uniroyal
Hankook
Avon
Yokohama
We can swap Winter tyres for Summer tyres and vice-versa. We can re-balance wheels, repair punctures, rotate tyres and our computerised four wheel alignment service will ensure your wheels are in perfect alignment and the tyres do not wear unevenly which will reduce their lifespan and could make your car potentially dangerous.